Small Favors: Missourians crocheting for charity
Long ago, I was surfing the net, and found a website that really got my attention. It was for a group, based in Colorado, that donates handmade garments and blankets for preemies. (Sadly, I think this group no longer exists at all, unless it's now the Yahoo Group called "ababysangel.") Like a bludger between the eyes, it struck me: I'm constantly crocheting. To the point I've got mountains of afghans in my house. Why not do something for someone else? I started searching the web for similar groups active in Missouri, looking especially for my hometown, Springfield. Over half the links I found were broken -- lots of "404 Page Not Found" messages, etc. Below are the working links to groups, not listed in any particular order.

I recently joined The Ships Project! This would be a great outlet for anyone who has only a little time, or doesn't quite feel up to a large project. They accept 7" squares -- with certain guidelines! -- and join them into afghans for the troops. They also accept Cool Ties, Cool Heads, caps, and slippers. Patterns and color guidelines are available on their website.

Head Huggers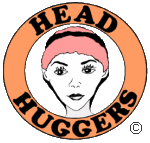 Their website asks: "Do you knit? Crochet? Sew? Would you like to use this skill to help someone who has undergone hair loss due to chemotherapy, brain surgery, burn wounds, etc.?" As I'm losing my hair due to post-surgery stress and lack of protein, this site really strikes home! Only two groups shown in Missouri, Kansas City and St. Louis.

Warm Up America

This project lets people create one -- or more -- 7" by 9" piece, crocheted or knitted, which will be joined with others to make a full blanket. Springfield, Missouri's collection site is the Michael's Craft Store, 1840 E. Independence. Addresses for other Michael's stores in Missouri are located here.
Newborns in Need

Springfield has its own chapter, organized on 1 July 2003! Contact information:
Springfield Missouri
President Judy McDuffie
3261 S Kimbrough
Springfield, MO 65807
417-889-6952
The actual office is located at 303 W. Cherokee, phone 823-9508
springfieldmo@newbornsinneed.org
Http://www.newbornsinneed.org/springfieldmo
A number of other chapters operate in Missouri.

Project Linus
The Project Linus website describes itself like this:
"Although Project Linus originally donated blankets to pediatric cancer patients, recipients now include any child who is seriously ill or traumatized in some way -- in other words "children in need of a big hug." Project Linus has five chapters in Missouri: in Kansas City, in Manchester, in St. Louis, in Columbia, and in Joplin. The contact information for the Joplin chapter:

Joplin/Springfield/Southwest Missouri
Contact: Joyce
(417) 781-1871
rojo@joplin.com

Warming Families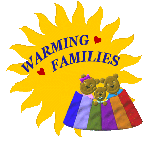 When I tried (on 20 October 2008) to search their "Area Volunteers" section, to find Missouri volunteers, the application didn't work. Maybe they'll get it fixed. Warming Families has been absorbed into the Osmond family-sponsored "One Heart" organization, btw.
Care Wear
Care Wear has a number of hospitals in Missouri that will accept donated sewn goods, ranging from crochet for preemies through doll clothes and toys for hospitalized children. View the hospitals and their requests.

Lids for Kids AKA Happy Hats


Please note: this link is for a web archive page. The site is no longer available!
This project has listed only one Missouri recipient, St. John's Hospital in Springfield, but the page's creator suggests you check with your local hospital about donating. She's also given some useful tips, for example, the caps should be bright colors and very soft -- the patients' skin is sensitive due to the chemo. Easy patterns, too!

Hugs for Homeless Animals
Their Snuggles Project donates blankets to animal shelters. They've revamped their shelter list. You can now access a Missouri area codes page, so it's easy to find shelters in your area which accept Snuggles donations!

I intend to contact hospitals, shelters, etc., in the Springfield, Missouri area, hoping to expand this list. Please let me know of any other efforts in Missouri! I'd like this page to be as comprehensive as possible! And please keep in mind -- you don't have to go through a group to donate! There's a lady in Huggins, Missouri, for example, who makes hats and gives them to the elementary school principal, who sees they get to the kids who need them. Most schools like to keep hats and gloves on hand for such emergencies. You could donate an afghan to the local Family Violence Center or women's shelter, or to senior aid programs like OACAC here in Springfield -- Ozarks Area Community Action Corporation, which helps seniors and families in need pay utility bills, and provides a lot of programs for needy kids, in these Missouri counties: Barry, Christian, Dade, Dallas, Greene, Lawrence, Polk, Stone, Taney and Webster. If you don't know of such a group in your area, check with the local library!

All the above sites have patterns, or links to patterns. Here are some other sites I found while searching. All links are active as of 20 October 2008.
*** IMPORTANT NOTE: People far more clever than I have licked the problem with this site: "http://www.cei.net/~vchisam/"!! Excellent! For links to hat patterns on this site go to Martha aka Stargazer's hat links. The page is a little hard to read -- black background and bright letters, but take time to check out the main links page there -- what a bonanza! Huge thanks to Kay H. for letting me know!
Chained Links is a very large archive, 1600+ patterns, well organized.
Crochet Partners library is huge! Tons of free patterns, and a free membership to their email group, some 1600 crocheters from around the world. (just think of the patterns you could get, eh?)
And of course, different yarn and craft companies have patterns on the web:
Craft Yarn Council.
Lion Brand Yarn.
Yarn Lovers' Room.

*** SECOND IMPORTANT NOTE: Remember your local used book stores! They've got pattern books at unbelievable prices, and a lot of those books aren't in print anymore. It's a treasure trove!
---
Contact me at fruitshirt@juno.com
---
Last updated: 20 October 2008. Page copyright 2002-8.
---

Free search engine submission and placement services!