My Backyard Wildlife Habitat -- The Pond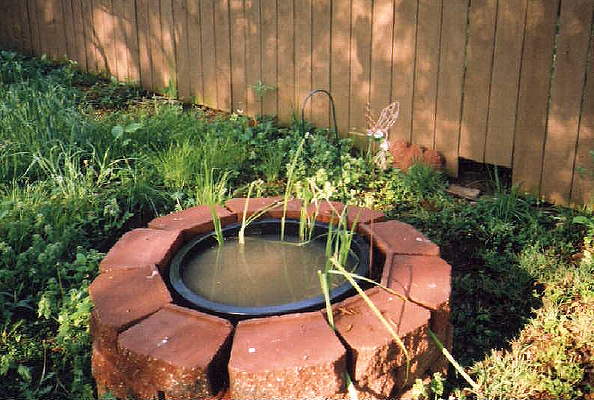 I'm sure that somewhere, there's a law of physics that states "When a fat, lazy woman wants to put a pond in hard clay ground, she's no way going to dig it." Welcome to Creative Engineering 101: Developing an above-ground pond system. Here's the plan: the upper tier, already in place, will become a swamp filter for the rest of the system. I'm going to put in the middle tier this summer, for sure. I'm going to poke a small hole in the side of the upper tier's preform liner, stick in a piece of tubing with a stopcock, and have a drip set up for the middle tier. Water flow at this point will only be "downhill," refilled from the top tier's gallon-jug drip system. By the time I'm able to get the third tier in, I hope to have either a solar-powered pond pump, or to have had electricity run out there to the pond itself. The solar-powered pumps aren't cheap, but then, neither are electricians. Haven't gotten that far yet. The irises are courtesy of Karen & Nancy's Irises, who have a booth every year at the Springfield Lawn & Garden Show. I go every year with my nieces, haven't missed in some 12 years, and last year, when they found out I'd started the pond, they gaveme a half-dozen water irises. Great ladies, both of 'em.
---
Please use the back button on your browser to return to the thumbnail page. Last updated: 14 August 2003. Page and image copyright 2003-2006.